Owlegories is dedicated to providing Biblically based resources for parents. In addition to our animated series and apps, we are posting a series of interviews from incredible parents from all over the globe. They each share the wisdom and knowledge they've gained from raising their own kids. These parents are not perfect, but they are committed to raising their kids in a way that honors the Lord and have a lot to share about what they've learned. To follow along, be sure to sign up for updates!
Today we interview Carol Davies. Carol is a long-time friend of Julie's and is a great mom of four boys and one girl on the way!
1. How many kids do you have and what are their ages?
4 kids, going on 5:)
Brinley 7.5 years old
Henry 5.5 years old
Smith 5.5 years old
Oliver 1.5 years old
Mary Helen due April 18th
2. What type of schooling do you do (Public/Private/Homeschool?)
Homeschooling
3. What are some creative ways you try to teach your kids about God and the Bible?
We usually celebrate Easter, Thanksgiving, and Christmas with a sort of "tree" made of branches in a vase (inspired by Ann Voscamp). For Easter we hang paper eggs crafted by the kids, for Thanksgiving we have hung paper leaves crafted by the kids with either verses on them or thankful thoughts, and for Christmas we have an Advent Jesse tree.  My kids are involved with Community Bible Study and are able to tap into creative learning about the LORD and Bible there as well.  We usually read to the kids and sometimes print our coloring pages that correspond.
4. What are some of your favorite books or resources on parenting that you would recommend to others?
Leading Little Ones to God is a great devotional that teaches basic Bible truths.  It's very good.  We also love the Jesus Storybook Bible.  As for parenting resources, currently, we love Doug Wilson's sermon series, "Loving Littles Ones" and "the Covenant Home."
5. Do you do a daily devotional with your kids? How do you?
Yes, we try to at breakfast time…We usually go through a devotional. We read while we eat and after eating…. we gather in the living room and go through a memory verse, a memory passage (i.e, Psalm 23) and we sing a hymn or two.
6. Is there anything you wish you would have done differently with your kids?
Oh,  I am sure… many things! One thing, I wish I was a little more laid back and loving from the beginning.  I think after the twins, I was in robot-mode just trying to make it through the day.  I wish I could have enjoyed those days a little more.

7. What is the best parenting advice you've ever received?
I am sure most have heard this… but so true:  "The days may be long but the time is so short!" Enjoy those little years!
8. How do you get your kids involved in household chores?
Haha!  We just make them.  They aren't allowed downstairs for breakfast until their morning chores are completed.  Their chores are pretty simple–make bed, clean up room, get dressed, lay PJs on bed, and brush their teeth.  Once these are all done, they need to sit and "read" on  their beds.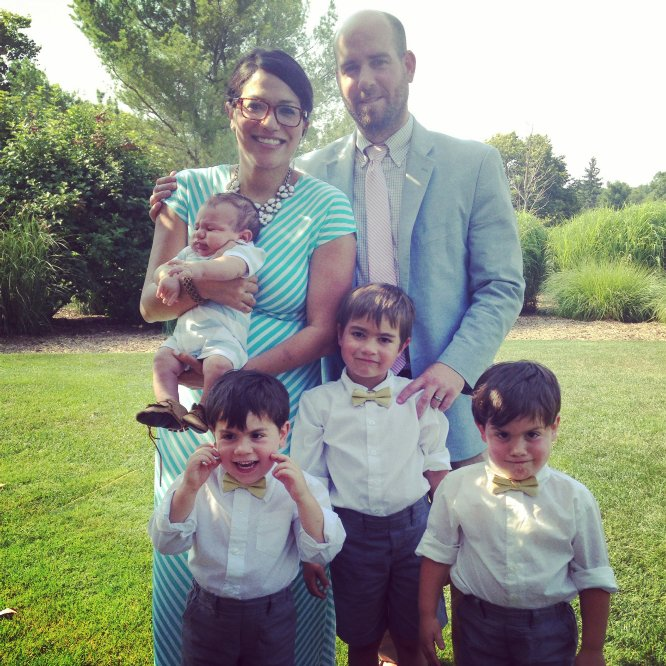 We will be posting interviews like this each week, so if you would like to follow along, be sure to sign up for updates and follow us on Facebook and Twitter!