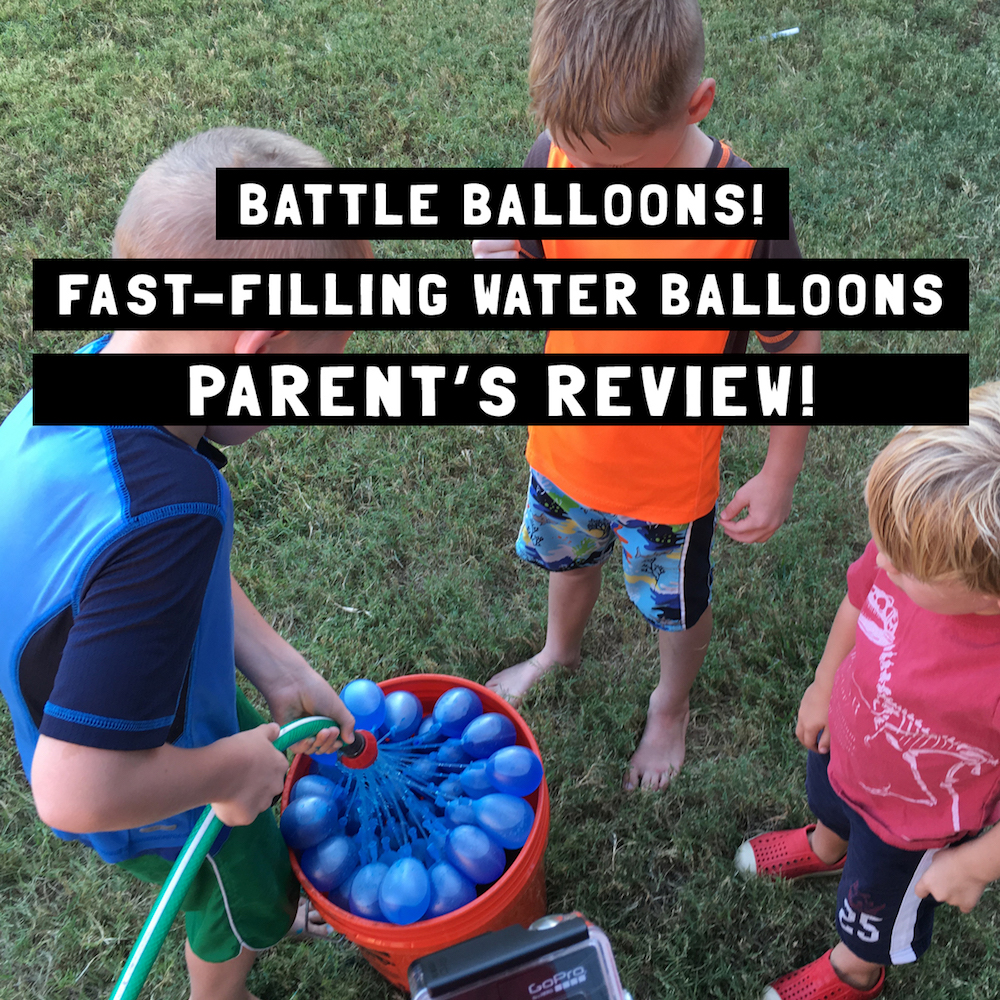 We are in the middle of our Sun Month Challenge and each week we are giving away a cool prize! This week we are giving away Battle Balloons! They are color filled water balloons and that fill up instantly. AND. THEY. ARE. AWESOME. Our kids love them. We tested them out recently and they were a ton of fun. Where were these when we were growing up?! Gone are the days where you had to fill up water balloons one at a time. You can fill up 40 water balloons in seconds. Seconds!! Whoever thought of this idea is brilliant. Someone should give him or her a medal. Seriously.
Here is a link to the ones we are giving away (Battle Balloons Water Balloons). The colors are red, green, and blue. The coloring is non-staining and non-toxic, but you will have to use soap a little bit to get it off your skin, especially the blue and green colors. But it came right out of the boys clothes and hair.
PROS & CONS
The pros are obvious: fast-filled water balloons filled with coloring that are so easy to fill our kids can do it. What more could you ask for? Our kids absolutely loved them. As far as cons are concerned, I only have three: 1) They fill up fast and so they are used and gone fast. It's amazing how fast our boys went through 40 water balloons. 2) Some of them were a little harder to break. I think if you filled them slowly and kept some air in them they would break easier, or maybe that is the other way around, I don't know. Either way, I think it was a user error on my part. And 3) The coloring does stay on your skin unless you wash it off. That's not a big deal though if you are prepared for it. Overall, they are great and something we plan on buying again in the future. If you don't win the one we are giving away, be sure to buy a pack on Amazon and let us know what you think.
Challenge #1: COLOR THE SUN
To win a pack of Battle Balloons all you have to do is draw and color a picture of the sun! Easy enough, right? It could simply be a picture of the sun, or it could be a squirrel wearing sunglasses riding a rhinoceros in the dessert on a hot, sunny day. It's up to you really. But once your little one finishes their masterpiece, be sure to take a picture of it, fire it over to Facebook, Twitter, and/or Instagram and hashtag it #Owlegories. The winner will be decided and announced on Sunday, August 7th
PRIZE: Battle Balloon – Color Filled Water Balloons!