OWLEGORIES VOL.3 – THE FIRE, THE DUCK, THE SEASONS!
We are excited to announce the release of our third Owlegories DVD…Owlegories Vol. 3 – The Fire, The Duck, The Seasons! (See Video Announcement below!) Pre-Order before May 8th and get Vol. 3 at 25% OFF using PROMO CODE: VOL325
In these episodes, you and your family will learn about the refining fire, the greatest gift, and God's sovereignty! Below is a summary for each episode.
We are excited to have three amazing Gospel presenters for these episodes too: Ben Stuart from Breakaway Ministries, Uncle Si from Duck Dynasty, and photographer, entrepreneur, and humanitarian Jeremy Cowart!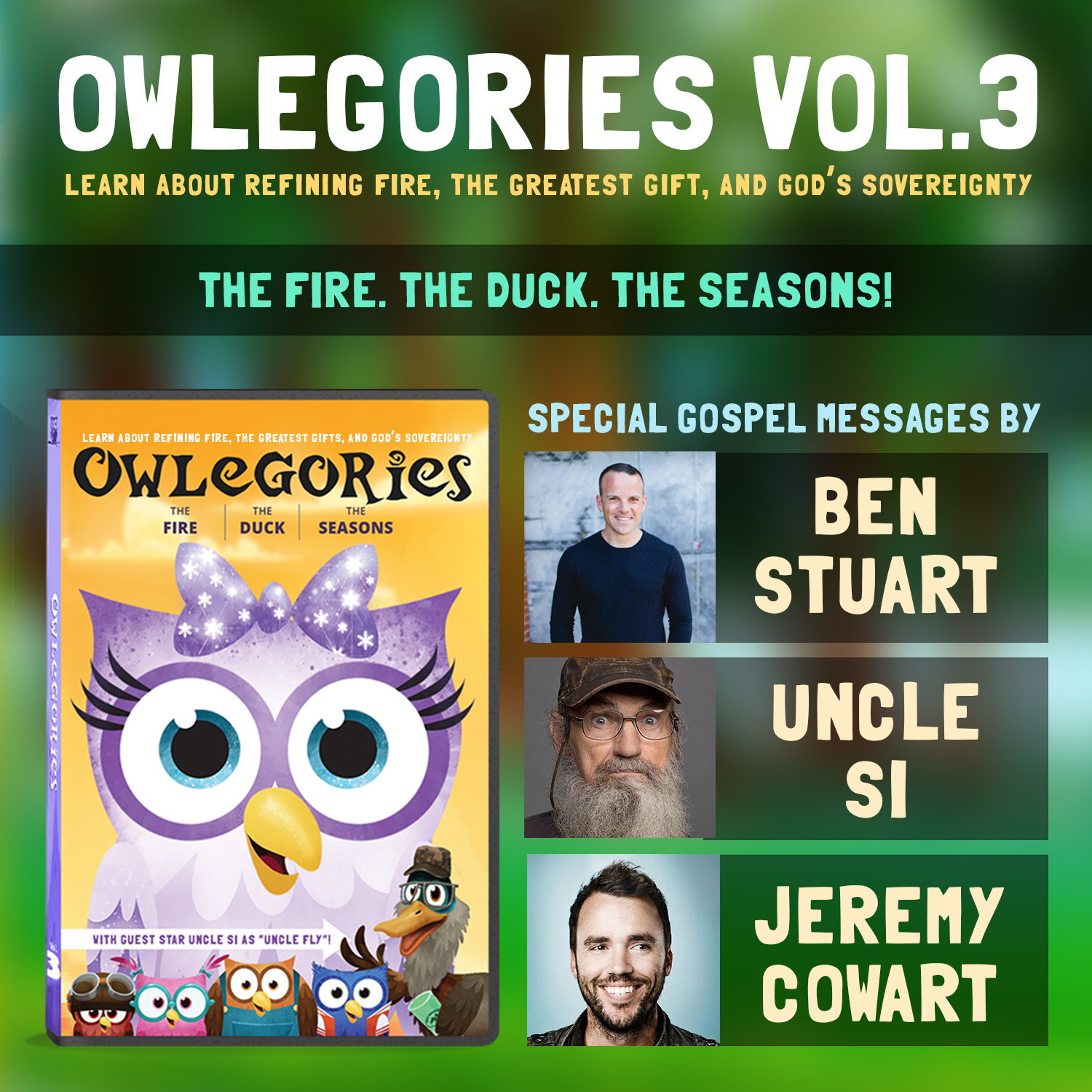 We are really excited about these episodes! Owlegories continues to grow, so thank you to all those who have helped us spread the word! As a way to say thank you, starting today, you can Pre-Order and get Vol. 3 at 25% Off using PROMO CODE: VOL325, but this only lasts till May 1st!
Episode 1: The Fire:
The Professor sends the owls to an ancient refinery to learn about pure gold and discover three ways God is like fire. Recap presented by Ben Stuart, the Executive Director of Breakaway Ministries. The KEY VERSE is Hebrews 12:28-29!
Episode 2: The Duck:
The class travels to the swampland to meet Professor Owlester's old college roommate, Duck Dynasty's Si Robertson. They learn the importance of working together and discover three great gifts given to us all by God. Recap presented by Silas "Uncle Si" Robertson from Duck Dynasty. The KEY VERSE is 1 Peter 4:10
Episode 3: Seasons:
Our young explorers go on a high-tech adventure through a souped-up seasonal simulator where they learn three things followers of Christ can learn from the seasons. Recap presented by celebrity photographer and entrepreneur Jeremy Cowart. The KEY VERSE is Ecclesiastes 3:1

PRE-ORDER before 5/17/16 and Get 15% OFF with the PROMO CODE: VOL315. After May 16th the discount goes back to full price for the official launch on May 17th, so be sure to take advantage of this discount while you can!